The dress is gone, Look how Urfi covers her secret body parts!
Urfi Javed has repeatedly been involved in controversy due to wearing 'strange' clothes. After being trolled by netizens on social media, Urfi occasionally came up in the headlines. Sometimes he wraps himself with tree leaves, sometimes with something metal, and sometimes with two stickers on his chest – this is how Urfi Javed practices.
But what Urfi did this time, it seemed to surpass everyone. There is no cloth or thread or leaves on it. Urfi Javed came to the public after covering his secret place with only a few red ribbons. One such video has made noise on social media. In the video, it is seen that Urfi Javed has exposed his golden body to the pink wall. But he has no clothes on. Urfi did not wear even a thread. There are three red tapes covering her nipples and some red tape covering her lower body. Bold red lipstick on the lips. Comb the hair neatly. And thus Urfi understood with one eye looking at the camera in a bold pose as a naked woman. As if this model wanted to give some more message to everyone.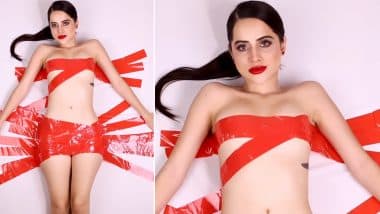 However, fans are very angry after seeing the video. Someone wrote in the comment box, 'Someone calls it fashion, it's a body display. You should be ashamed'; Someone else said, 'this is how food delivery packaging works'; Someone is raging again, 'it needs to get an award'.
But Urfi Javed doesn't pay much attention to that. Therefore, in the midst of thousands of controversies, in the same way, he caught everyone in front of everyone in strange avatars.